Frequently Asked Questions
What is Tactical Eyewear?

The risks to eyesight are never higher than at the shooting range, on patrol or in battle. Tactical eyewear is purpose-built to protect your eyes from airborne debris and projectiles traveling at extreme velocities (such as an ejected casing)–all while resisting corrosion from harsh chemicals and delivering optical clarity in virtually any environment. The best tactical eyewear offers fog proof technology, interchangeable lenses and anti-slip frame details to keep them secure.
What's the Difference Between Safety Glasses and Tactical Eyewear?  

The risks to eyesight vary in each environment. Sitting on the couch at home? No worries (although you may want some blue light-blocking glasses for your nightly scrolling). At the shooting range? You'll definitely want some ballistic-rated eye pro. Safety glasses and tactical eyewear differ in their respective impact resistance. Safety glasses are tested to ensure they can protect your eyesight against hazards found on jobsites, warehouses, factories or other industrial environments. Tactical eyewear, on the other hand, is put to the test to promise impact protection against the most extreme projectile velocities. The Military Combat Eye Protection System (MCEPS) standard tests glasses with a 22-caliber projectile traveling at 660 feet per second, whereas the American National Standards Association's (ANSI Z87.1 and Z87.1+) requirements are at much lower velocities. In short, if you're on a jobsite, wear safety glasses; if you're on the range or on patrol, wear tactical eyewear (although you could always wear MCEPS eyewear on a jobsite for extra protection).
What is the Best Eyewear for an Indoor Shooting Range?

If you're like us, you'd rather plink outdoors than shoot at paper targets at an indoor range any day. But, when it's time to hunker down and stay dry, sight in a new scope or train, what shooting glasses should you turn to? Outdoor tactical eye protection is fairly simple – toss on your pair of tinted ballistic glasses. For the indoor range, however, you'll want a pair of impact-resistant eye pro with clear or Tiger's Eye lenses–depending on the lighting conditions in the facility. Some suggest an impact rating that at least meets ANSI's Z87.1 standard (the rating for safety eyewear) for shooting glasses. However, it's better to choose eyewear that satisfies the Military Combat Eye Protection System's (MCEPS) strict testing protocols. This is similar to ANSI safety glasses, but ballistic eyewear can withstand projectile impacts of much higher velocities. Better safe than sorry. Plus, you can get tactical glasses at comparable prices as a quality pair of safety glasses. And some come available with interchangeable lenses, so you can more easily dial in your kit for the exact conditions. 
Why Wear Glasses for Shooting?     

Needless to say, shooting poses many hazards–whether at the range, on a hunt or just plinking around with your buddies on a weekend. And your eyes are one of the most prone to serious injury. In fact, your eyes are your only naturally-unprotected organs. Wearing eye protection while shooting can help shield your eyes from injury associated with ejected cases, gun powder blowback, recoil and a myriad of other hazards lurking around the corner. Plus, impact-rated tactical eye protection that's tinted can help shield your eyes from the sun and harmful UV rays when shooting outdoors–and just make your day that much better, really.
What is MCEPS and MIL-PRF-32432?   

The Military Combat Eye Protection System (MCEPS) standard was created to meet the need for more robust impact and optical clarity testing for eyewear designed for use in battle. Tactical eye pro is tested for compliance with ANSI's Z87.1 safety standards, but with more extreme impact velocities. Eyewear tested for compliance with the MIL-PRF-32432 standard (a classification of MCEPS), must withstand the impact of a 22-caliber projectile traveling at more than 660 feet per second. Additionally, MCEPS eyewear needs to satisfy optically clarity and corrosion resistance testing.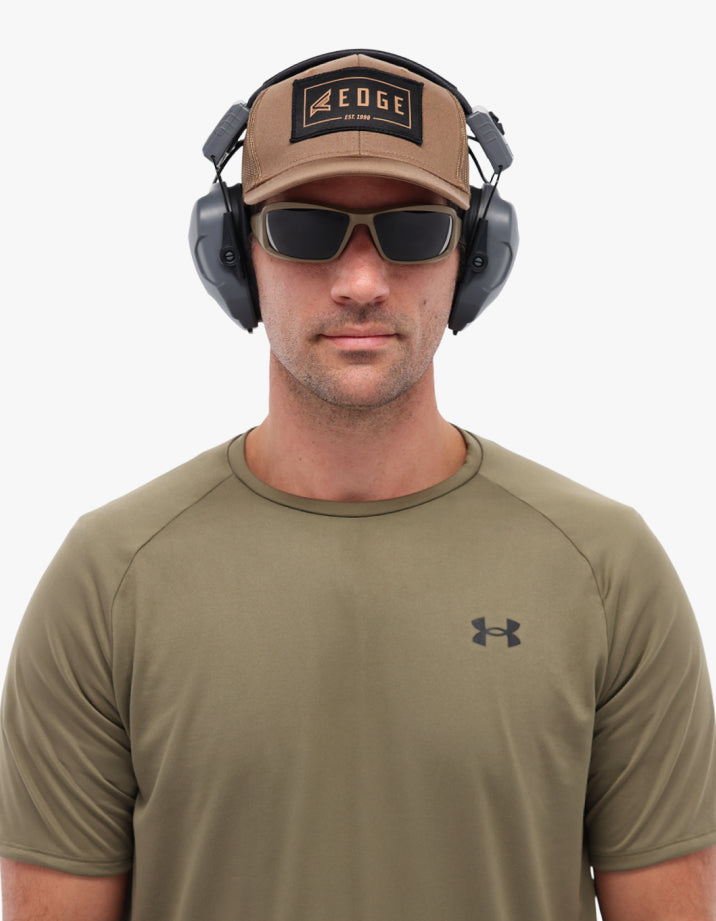 Never Done 
Letting our restless imagination take the wheel since 1998.
We brought Edge to life in '98 to show the world that safety glasses should be better. Out with unstylish designs. No more outdated technology. Disposable protective eyewear? Forget about it. Edge turned the safety eyewear industry on its head.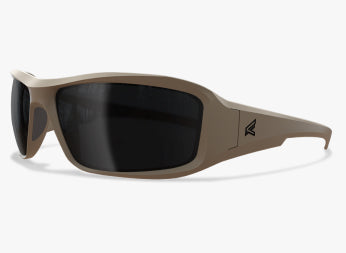 Watch what we do next.
Ballistic protection, anti-slip frames and fog proof technology wrapped in a stylish and affordable package? For uncompromising tactical glasses, you can't go wrong.  
Shop Now
Follow us, tag it, share or slide us a DM. Whatever your flavor, we're listening on Facebook, Instagram, TikTok and (even) LinkedIn.
Follow Along
Tactical and Ballistic Eyewear
What are tactical glasses? And what's the difference between this military-grade eyewear and safety glasses? Tactical, or ballistic, glasses are a form of protective eyewear rated to withstand impacts of extreme velocities. This eye pro is tested for compliance with the American National Standards Institute's (ANSI) safety standards, but with impact velocities from a 22-caliber projectile traveling more than 660 feet per second. So, the difference between tactical eye pro and safety glasses lies primarily in its level of impact resistance. Our safety glasses (compliant with ANSI's Z87.1 standards) are designed to defend against impacts that may be experienced on a jobsite or while working at home. However, our tactical glasses, compliant with the Military Combat Eye Protection (MCEP) classification, are designed to defend against impacts possible in combat or at the shooting range. Additionally, optical clarity standards need to be satisfied to comply with MCEP's current MILPRF32432 standards. All our tactical offerings are compliant with the latest MCEP standards and are designed with operator-focused features, uncompromising performance and comfort in mind.
Our tactical eyewear lineup offers extreme ballistic protection, virtually indestructible frames, anti-scratch coatings, comfortable details and our semi-permanent anti-fog technology (Vapor Shield). The Hamel is a favorite among those looking for shooting glasses that comfortably go from the range to the river–and even come available with light shifting photochromic lenses. Our Overlord is an uncompromising, non-slip companion–and even comes available in kits with interchangeable lenses. And our Sharp Edge fits right in with anybody looking for an affordable pair of tactical sunglasses or reliable shooting eyewear. Whether you're looking for shooting eyewear for your weekend range days or tactical glasses for airsoft, training and everything in-between, check out our selection of MCEPS-compliant protective eyewear.